"Unity is strength". In Clash of Eastern, wars and fights come from nowhere. It is dangerous to walk around in Eastern alone. Why not join a guild and fight together?

Guild system will open when your character reaches level 30. You may either join a guild, or create a guild.

Create a Guildand become a Guild LeaderEdit
There are 2 things you need to prepare if you want to create a guild: 100 thousand silvers and a super-duper powerful guild name.

Once you are ready, click on "Guild" → press "Create" → Enter your super-duper powerful guild name → and press "Create". And now, your guild is created!

And of course, you will be the guild leader of the guild you created.

So what can a guild leader do?
1.RecruitEdit
The very first thing you should do is recruiting as many guild members as you can. To invite a person into your guild, press his/her name on the chat area → click "invite". The person will receive a notification. The person can either accept or reject the invitation.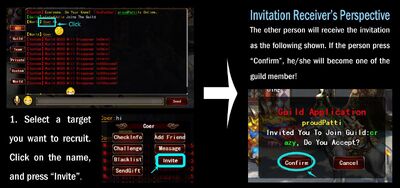 If a person wants to join the guild, he or she might apply to join. Go to "Manage" to see if there is any applier. You may agree or reject the application.

Note: Both guild leader and elders can invite people or accept invitation. So it's important to choose responsible elders!
2.Upgrade the GuildEdit
A guild leader can upgrade the guild level when the funds meets the requirement. The funds come from the donation. To upgrade the guild level, press "Guild" to open the guild interface → make sure you have enough funds → press "Upgrade" at the bottom of the interface.

The maximum guild level at the moment is 20 and the capacity of the member in the guild at level 20 will be 130.
3.Upgrade the Martial AreaEdit
A guild leader may also upgrade the level of Dragon Hall, Tiger Hall, Phoenix Hall, and Turtle Hall. Upgrade the level of those halls will open up the max level that members can learn in the hall. It is important to upgrade the most critical one first!

4.Put Down a NoticeEdit
A guild leader may put down a notice on the bulletin. It is an efficient way to communicate with guild members. Remind them to do the daily quests, to collect rewards and such.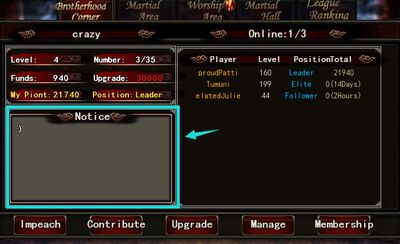 5.Manage MembershipEdit
A guild leader may appoint position to a member by clicking "Membership" → select the member → press "Appoint" → select the position you want to give to the member → press "Confirm" to complete the process.

Some position has limited space, select wisely: Leader x 1; elder x 2; master x 6; elite and member are unlimited.

A guild leader may also force a member to leave the guild.
6.Open the Holy Beast InstanceEdit
A guild leader may open the holy beast instance by going to "Martial Hall" → press "Beast" once every day. Members can join challenge the beast together to get great rewards.

Join a Guild and become a Guild MemberEdit
If you think being a guild leader is too heavy for you, you may join a guild and become a guild member. To join a guild, press "Guild" to see the guild ranking, select the guild you want to join, and send an application. If the leader or elder of the guild accept your application, you will become a member of the guild! Don't forget to contribute and make your guild stronger!
Donation is very very important. Every silver or gold you donate means a lot to the guild. To donate, press "Contribute" → you may donate with silvers and golds. If you want to donate in silver, press "Silver"; if you want to donate in golds, press "Gold". There is an everyday silver donation limit. Every time you donate, you will receive some contribution points that you can spend in Guild Store and Marital Area.

2.Martial AreaEdit
Study in different halls to get bonus attributes. Go to "Martial Area" interface → choose a hall and press "Study" → select the attributes you want to increase, and press "Learn". Your attributes will be increased forever if you are in a guild.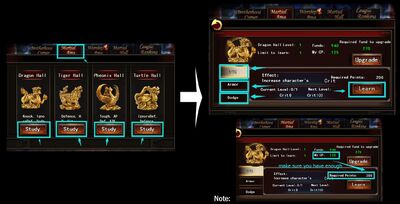 3.Worship AreaEdit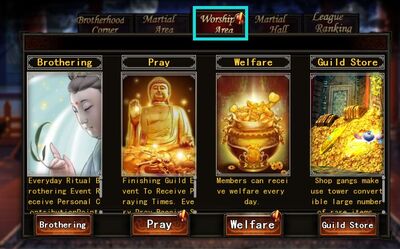 Brothering: having a ritual brothering to receive 120 Contribution Points and 25,000 Cultivation Points. Ask other 2 members to ritual together. A person can only receive one set of rewards every day; however, a person can still help out others finishing the ritual! Also, you may click "Invite" to invite members to the ritual.

Pray: a member may pray 1 time every day. Press "Pray" to receive a praying reward.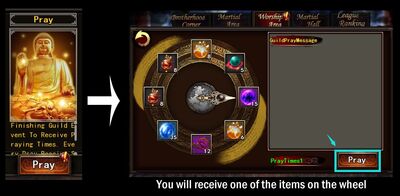 Welfare: members can receive welfare every day. If you score the top 10 in yesterday contribution, you can collect extra reward!
Guild Store: you may purchase the items in the Guild Store with contribution points. Sometimes it offers rare items. Come check it out once in a while!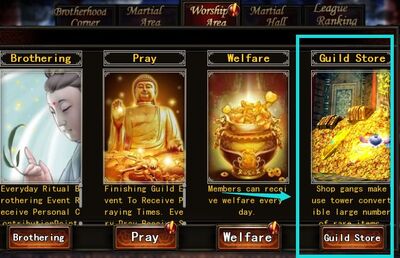 4.Guild RankingEdit
You may check the current ranking of all guilds in "Guild Ranking".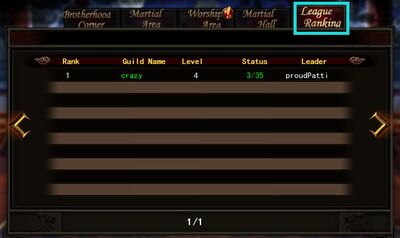 5.ImpeachEdit
If the guild leader is absent for 7 days, anyone in the guild can impeach the current leader and become the new leader. Make sure you have an impeach token to do so.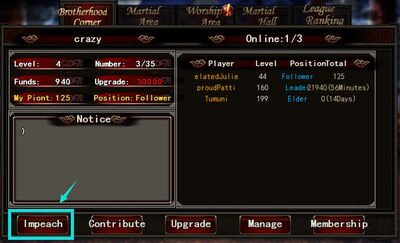 Guild WarEdit
One of the most exciting thing of joining a guild is the "Guild War" every Thursday and Saturday. It is when you show your unity strength! Occupy the castle and get great rewards every day!

Sign-up Period:
Every Thursday and Saturday from 12:00 to 22:00
Sign-up Rule:
1)Each guild can only sign-up for one castle. Occupied guild can sign-up for another castle to try to occupy more castles.
2)The occupied guild does not need to sign up. Don't forget to defense!
3)Only the guild leader and elders can sign-up for the guild.

Probation – defeat the Guarding BOSSEdit
The probation of the guild war, the challenged guilds will need to defeat the Guarding BOSS within 3 mins or faster than other guilds in order to be able to challenge the occupied guild.

1)Preparation period: 22:00 – 22:01

2)Challenge period: 22:01 – 22:04

3)Requirement:

If the castle is not yet been occupied, the first 2 guilds that defeat the Guarding BOSS will go to the next round.

If the castle is occupied by a guild, only the fastest guild to defeat the Guarding BOSS will go to the next round.

4)Reward: Each of the participated member will receive a package as reward according to the damage ranking.
Guild War
The target is to destroy the enemy guild's main tent.

1)Preparation period: 22:00 – 22:05

2)War period: 22:05 – 22:30

3)Meta: There are 4 towers and a main tent for each guild. Guild members will need to try to destroy enemy guild's towers one by one in order to start destroying the main tent.

4)Rules:

The guild that destroys enemy guild's main tent first within 25 mins will take the victory and occupied the castle.

If none the main tents get destroyed, the side with the most damage will take the victory and occupied the castle.